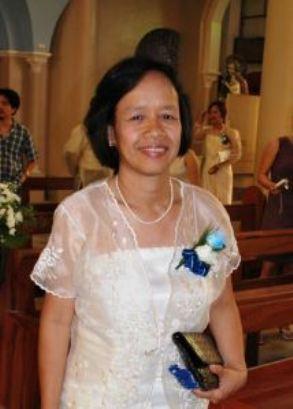 The Center for Development Programs in the Cordillera (CDPC) and its member NGO's condemn and hold accountable the 41st Infantry Battalion of the Armed Forces of the Philippines (AFP) for the extrajudicial killing of our friend, co-worker and comrade Engr. Fidela Bugarin Salvador; on or about September 5, 2014 during a military operation in Lacub, Abra. Delle as she is fondly called by everybody was in Lacub for monitoring disaster and socio-economic projects of the Cordillera Disaster Response and Development Services (CorDis RDS). Engr. Fidela B. Salvador is a committed development worker, a Project Consultant, a civilian and a non combatant; and not a member of the New People's Army (NPA) as claimed by the AFP.
Engr. Fidela Salvador is married, a mother of three and an activist. She has dedicated her life in serving the neglected and marginalized communities of the Cordillera. As an activist, Delle has braved the hardship of development work in different areas of the region despite the continued threat, harassment and persecution from State forces, experienced by activists working for social change. Delle is an activist who fights for the rights and welfare of the oppressed.
Delle is an engineer of the people and an activist advocating for the advancement of science and technology in the service of, and controlled by the people. Her latest engagement was the facilitation of rehabilitation projects for victims of typhoons Ondoy and Pepeng under the Philippine Tropical Cyclone Emergency Response Project (PTCERP) and Philippine Tropical Cyclone Shelter and Livelihood Response Project (PTCSLRP) under CorDis-RDS covering Bokod in Benguet, Bontoc in Mountain Province and Lacub in Abra. Earlier in1996-2003, Delle was a community organizer in Itogon, Benguet under the Women Workers Program (WWP) and Mining Communities Development Center (MCDC). From Itogon, her work widened to other indigenous communities in Benguet under the Alyansa dagiti Pesante ti Taeng Kordilyera (APIT-Tako) from 2003-2008. She is a Consultant of the TAWID Consulting services for Indigenous Peoples Organizations and NGOs. Her work horizon further expanded to Northern Luzon under the Regional Development Center – Katinnulong dagiti Umili ti Amianan (Kaduami –Regional Development Center – Northern Luzon) in the Social Enterprise Product Development Program (SEPDP) where she coordinated the advocacy for bio fertilizer and traditional varieties of crops.
Such unwavering selflessness in serving the poor has been ended by the State with her untimely death in the hands of heartless State forces. Her body was brutally desecrated as it bore many signs of torture not only from bullets but from hard objects used in hitting different parts of her body. She experienced extreme pain before her death as seen from the photos taken by the team who retrieved her cadaver.