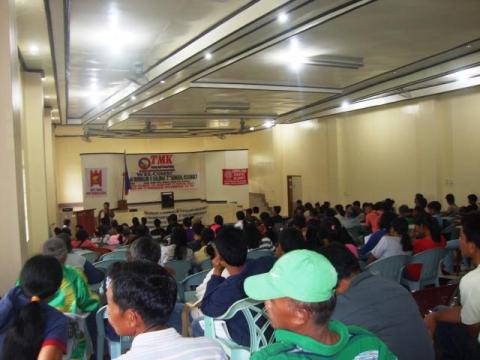 With the theme "Patibkeren, Palawaen ken Konsolidaen ti Timpuyog dagiti mannalon para iti pangkabiagan ken karbengan kas tao", at least 150 participants from the different peoples organizations from the province attended the 7th General Assembly of the Timpuyog dagiti Mannalon iti Kalinga (TMK) from October 26-27, 2015 held at the KASC Audio Visual Room, Tabuk, Kalinga. The assembly highlighted the problems of food insecurity of peasants in Kalinga and their resolve to strengthen TMK, their provincial organization to advance their campaigns and improve the lives of the farmers in the province.
Mr. Jimmy Suwagon, a staff of TMK discussed the current provincial situation of peasants in Kalinga. In his presentation, he emphasized the devastating effects of drought, typhoons Ineng and Lando and the unmaintained irrigation system especially in Lowland Kalinga which includes the municipalities of Tabuk; Pinukpuk and Rizal. Suwagon added that farmers are in dire situation due to the delayed rehabilitation of irrigation canal in the Upper Chico River System that irrigates 67% of the rice fields only.
Suwagon also further stated that peasants in the Upland Kalinga from the municipalities of Balbalan; Pasil; Tinglayan; Lubuagan and Tanudan share the same situation. Due to the previous typhoons and other natural disasters, major irrigation systems are damaged. This situation forced peasants to leave their rice fields and look for work in other communities. Most of them opted to work as small scale miners in Balbalan and Pasil while others try their luck at the vegetable gardens in Benguet and Mt. Province. He also shared that no payaw (rice field) expansion for a long time because of lack of irrigation systems.
Adding to issues of peasants in Kalinga is militarization. In Uma, Lubuagan, State security forces violate International Humanitarian Law. The military uses civilian houses for military purposes. During military operation, they stepped on small rice paddies planted with crops. Residents fear for their security because of the presence of military in their community. Their economic and agricultural activities are also disturbed such as tending to their farms because of the presence of the military.
The discussion of Suwagon was followed by a presentation of the current situation on the Irrigation System in the country. Mr. Andres Wailan and Ms. Raquel Pokis, both from the Alyansa dagiti Pesante iti Taeng Kordilyera (APIT-TAKO) reaffirmed the earlier discussion on the lack and insufficient supply of irrigation system in the province because of severe drought and the lack of intervention from NIA to repair and rehabilitate destroyed irrigation canals. The discussion encouraged peasants to support the campaign for a free irrigation.
The Assembly also reported the accomplishments of TMK such as the research on Large Scale Mining in Guinaang Pasil, continuing documentation of Human Rights Violation and  the effect of reaper to the farmers especially in lowland Kalinga, they were also  able to give education training on Sustainable Development and gave an awareness seminar regarding on the mining, hyro dams and geothermal for organizing they also accepted new members such as the Indigenous Farmers Association of Guinaang Pasil, Timpuyog dagiti Mannalon iti Taloctoc, Tanudan; Asiga Farmers Association in Pinukpuk;  Sukiyap, Lubuagan; Irrigators Association of Butbut Proper, Tinglayan and the Agbannawag Community Association for Development in Tabuk City.
In addition to the report Mr. Junior Angngalao the newly elected Secretary General of TMK said "mysa nga umad adu a riri let gapu kadagiti dagdaga nga no CLOA ti DAR  ket in award da a saan a nagna it I panagkonsulta it I agsinumbangir a maseknan nga agresulta iti dinarum nga awan pulos marisrisut inggana a mapan iti tribal conflicts. Kas iti baet to Basal ken Lubo (daga a nai CLOA a 24 hectares idiay Basao-Dilag nga ag agawen ni  Rustom Dagdag ti Lubo). Sidadaan met a pumapel tapnu agmediate to Kalinga Boding Congress ken Matagoan Bodong Council babaen iti diretso a panangsurot ti panagbayad iti biktima iti gatad nga inkedeng da ken maala to panagbayad kadagiti proyekto ken pundo to barangay wenno municipal inggana probinsya a pundo. Iti wagas a kastuy, agbalbalin a to umili to mangsagsagrap ken mangikaro iti Basol ti individual a mangar aramid iti krimen, imbes a dytuy ti madusa- BASAO-TANGLAG (daga-bangkag idiay new tanglag, tabuk.)"
The role of peasants in times of election was also highlighted during the Assembly. Mr. Samuel Anongos, regional coordinator of Sulong Katribu Party list spoke on the important contribution of peasants on the campaign for politics of change. He encouraged the Assembly to choose genuine party lists and candidates that will truly serve them.
Lastly the Assembly elected their new set of officers. Mr. Artemio Fontanilla is again elected as the chairperson while Edwin Liw-ag is the new Vice Chairperson, Mr. Junior Angngalao as Secretary General and Maricel Alligem aas Deputy Secretary General.
Blessy Jane Eslao