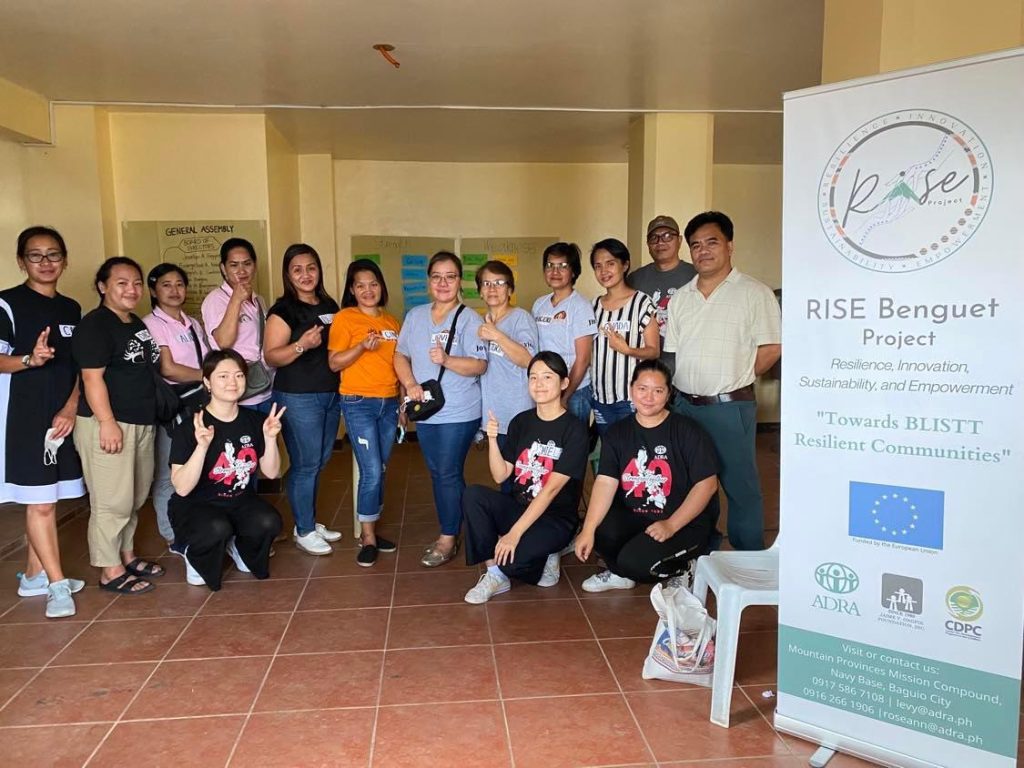 The Center for Development Programs in the Cordillera (CDPC) is part of the Resilience, Innovation, Sustainability and Empowerment (RISE) Benguet project. It is a three-year consortium project by the Adventist Development and Relief Agency (ADRA), the Jaime V. Ongpin Foundation Inc. (JVOFI) and CDPC. Funded by the European Union, the project aims to improve the disaster risk management and impact mitigation of climate change of communities in Baguio City, La Trinidad, Itogon, Sablan, Tuba, and Tublay (BLISTT area).
On March 7, 2023, the RISE Benguet project was launched in Baguio City. It will be implemented in partnership with the government line agencies, local government units and the civil society organizations (CSOs) that are members of the Local Development Councils. To enhance communities' resiliency to disaster, the project works on strengthening capability of CSOs engagement in public dialogues, social accountability, disaster risk reduction and management, and climate change adaptation and mitigation.
Strategy
Establishment of BLISTT Resilient Network – Coalition and Advocacy Network Building towards the development of BLISTT Resilience Agenda
Building CSO Champions – Conducting series of Training and Capacity Building of CSO towards a meaningful sectoral engagement in local government bodies
Community Resilience and Adaptation Projects – CSO-LGU Co-development implementation of Community-Based Resilience Projects.
Expected Outcome
DRRM and Climate Change Adaptation and Mitigation (CCAM) are part of the development agenda with allocated resources as a result of enhanced competencies of accredited CSOs to exercise their mandate in local governing bodies
Enhanced accountability of LGUs' performance on DRRM and CCAM through compliance with the Local Government Code
LGUs and CSOs contribute to national, regional, and provincial level policy initiatives to invest in DRRM and CCAM as a proactive and preventive strategy in the national development agenda through multi-stakeholder advocacy
The Rise Benguet Project targets to benefit a total of 21 Civil Society Organizations – 210 CSO representatives and 500,000 individuals. #PICTEAM
For more updates check RISE BENGUET official facebook page: https://www.facebook.com/risebenguetproject
Reference:
The Rise Benguet Project Brochure